Solved: Download Spotify music without Premium
Music streaming services all provide offline listening feature, but it's only a paid feature. Spotify is no exception. Spotify Premium subscribers who pay $9.99 per month (Family Premium $14.99 or Student Premium $4.99) can download any songs for offline listening. While Free subscribers can only listen to the songs with internet connection. Is there a way to download Spotify songs without Premium? The answer is yes.


Part 1 Spotify Free vs. Premium
Both Spotify free and premium allows you to access the music catalog with over 35 million songs on your desktop, mobile, tablet. There are also some differences.

Spotify free:
No offline listening.
Ads between tracks.
Shuffle only on mobile.
Travel abroad for only 14 days.
Spotify Premium:
Unlimited high-quality streaming.
Download Spotify music for offline listening on 3 devices, up to 3,333 songs per device.
Travel abroad with no limitations.
No ad interruption.
Unlimited skips.
Part 2 Download Spotify songs with Premium subscription
It's easy to download Spotify songs for offline playback if you are a premium subscriber. The songs is just for offline playback within Spotify app on that device, you can't transfer them to other devices or play with other apps. Songs downloaded are encrypted and don't shown as music files. Only the Spotify application contains the decryption key to be able to play tracks. You can download up to 10,000 songs on each of up to 5 different devices.
Note: An internet connection is initially required for downloading. You must go online at least once every 30 days and maintain a Premium subscription to keep your music and podcasts downloaded.
On your desktop:
1. Go to the playlist you want to download.
2. Switch Download on .
On your mobile and tablet:
1. Go to the album/playlist you want to download.
2. Switch Download on .

Part 3 Download Spotify songs without Premium subscription
Here we will introduce you a powerful third-party tools that allows you to download Spotify music without Premium.
1. Spotify ✪ Deezer Music Downloader
Spotify ✪ Deezer Music Downloader is a Google Chrome entension that allows you to download Spotify songs to mp3. Open it in your Google Chrome browser and click "Add to Chrome", and then click "Add extension". The extension icon will appear on the right corner of the webpage. Click it and the Spotify web player will be opened. Open a playlist and you will find a download button next to each song. Click it to download the song to mp3. Spotify ✪ Deezer Music Downloader uses multiple mp3 libraries to search thru and download Spotify music files from, however, a certain amount of tracks are missing in our libraries, therefore, some Spotify tracks won't be downloaded.
Cons: Only works on Google Chrome browser. No download button for the playlist. Need to click the "Download" button for each song. No album and genre info. Some songs also lose artwork. Some songs can't be downloaded.
2. AllToMP3
AllToMP3 is an app for Mac, Windows and Linux that allows you to download you favorite tunes to MP3 format from sources like YouTube, Soundcloud, Spotify, and Deezer. To download Spotify music with AllToMP3, paste the Spotify song, abum or playlist link in the dedicated area and hit Enter to start the conversion/download procedure. However, as it also searches and download mp3 songs from online libraries, you may encounter download failures or wrong songs.
3. Boilsoft Spotify Converter
Boilsoft Spotify Converter is a professional Spotify music downloader that allows you to easily download any Spotify song, album or playlist with either Spotify free or premium account . The songs are downloaded to the most popular mp3 format with 100% original quality. You can listen to the downloaded Spotify music with any music player, on any device you like. It features easy-to-use interface and very fast conversion speed.
Follow this tutorial to check how to download Spotify songs without Premium.
Tutorial: How to download Spotify music without Premium?
Step 1 Run Boilsoft Spotify Music Converter
Download, install and run Boilsoft Spotify Music Converter on your Mac or Windows.


The interface is shown as below. Log in your Spotify account, whether free or premium.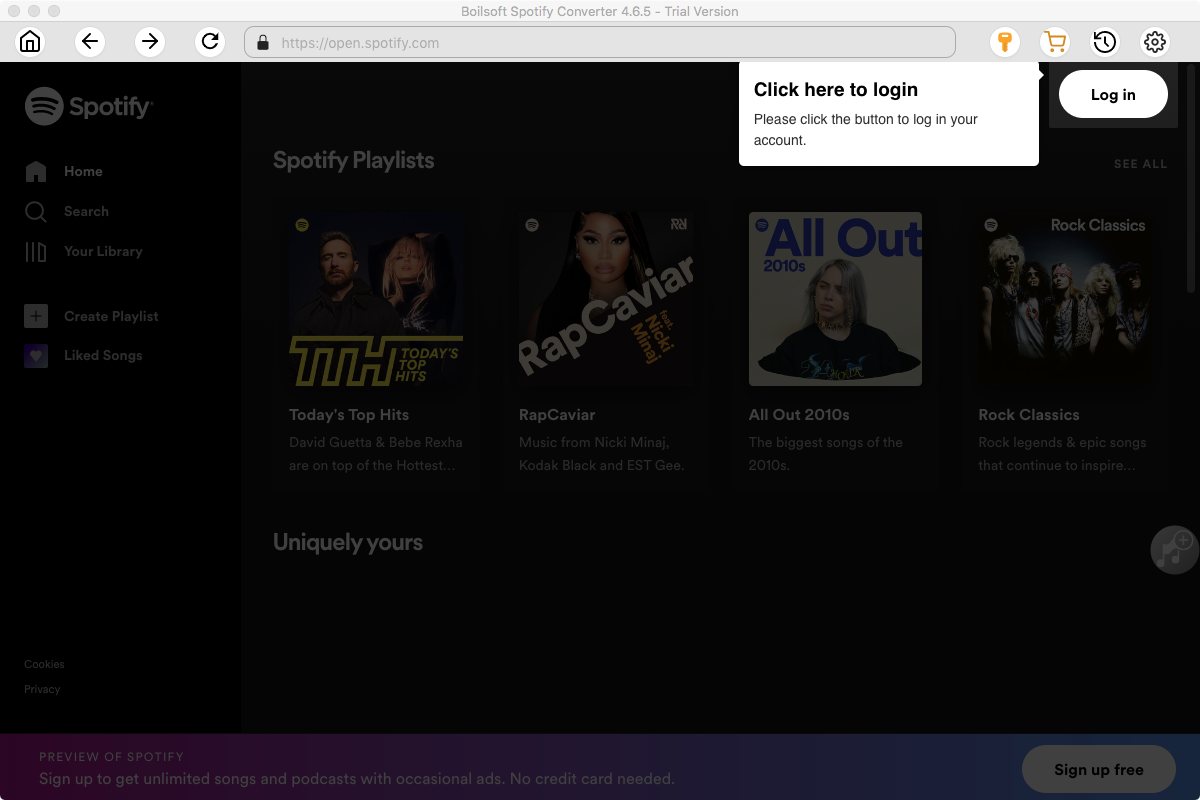 Step 2 Add Spotify playlists
Drag&drop playlists from Spotify app to the interface directly. Or copy&paste the link of the playlist to the bottom input area. Boilsoft Spotify Music Converter will automatically load all songs contained in the playlist. You can add as many playlists as you want.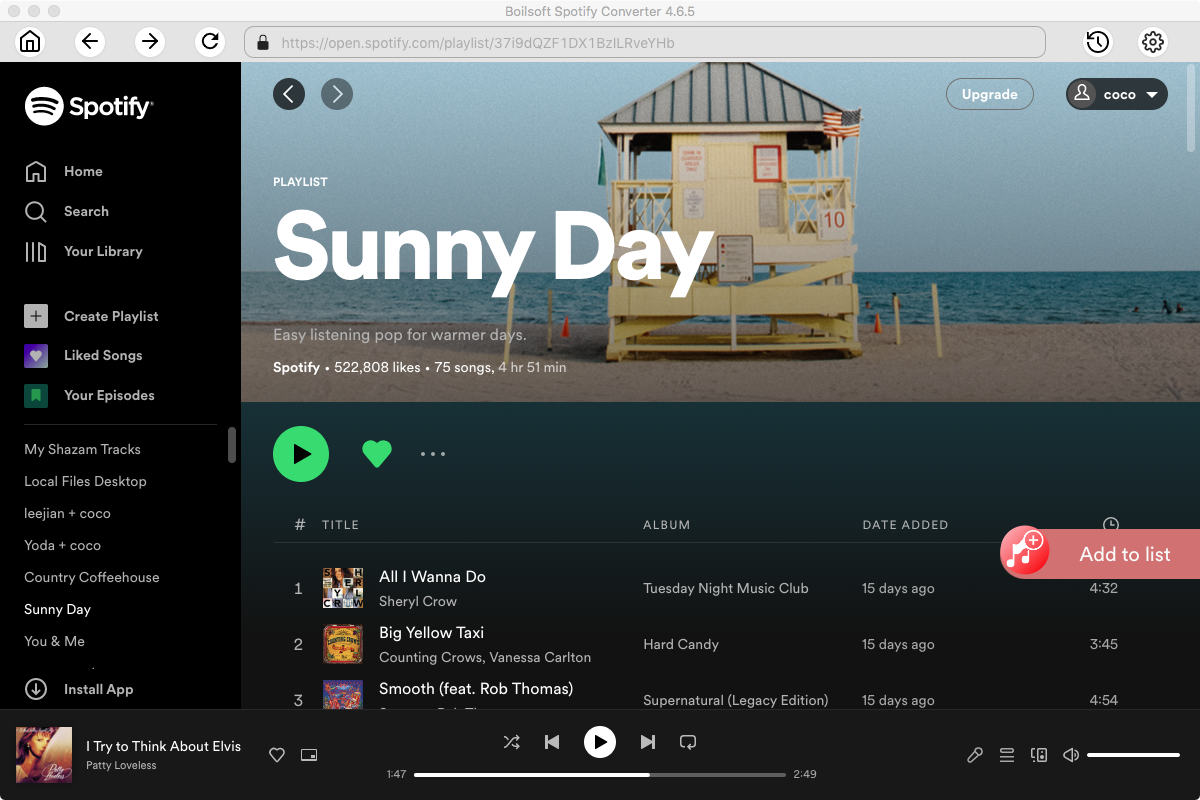 Click Add and you will see all songs on the interface.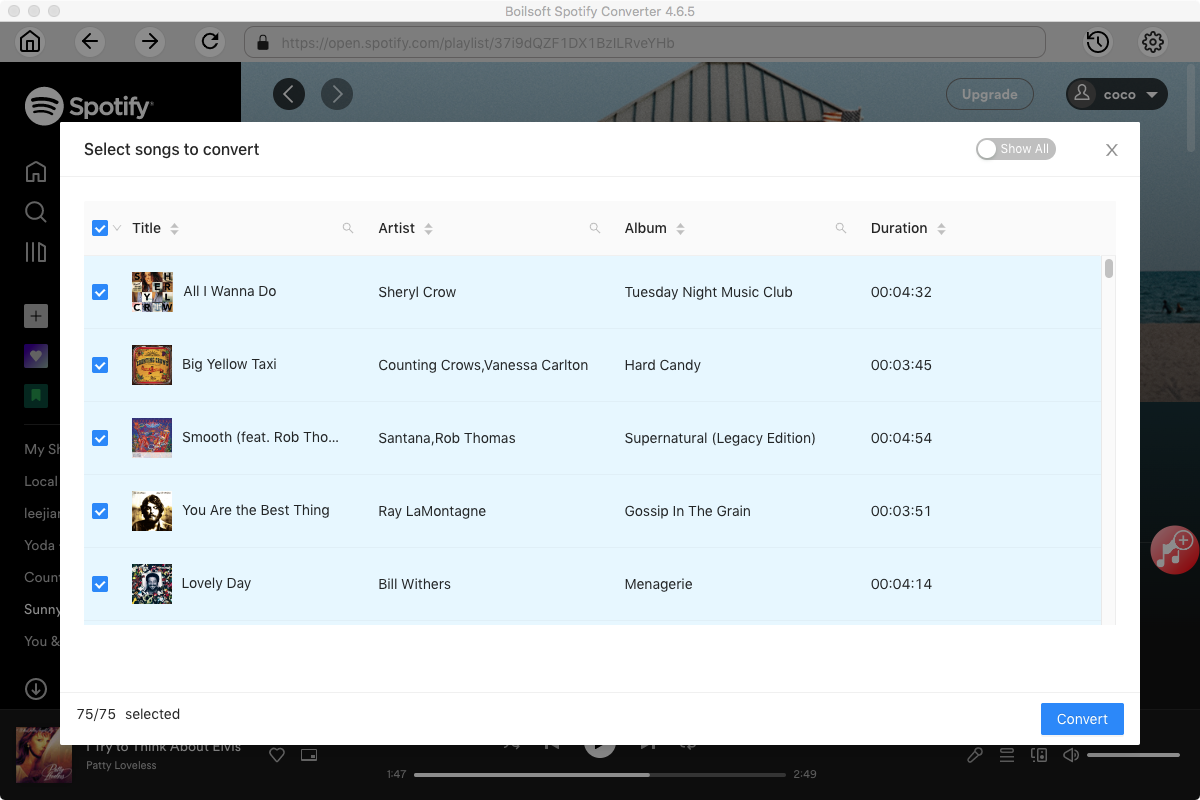 Step 3 Choose output format
The default format is MP3. Click Options icon if you want to choose other output formats(M4A, WAV or FLAC). You can also set bitrate and samplerate. Click General tab if you want to change output folder.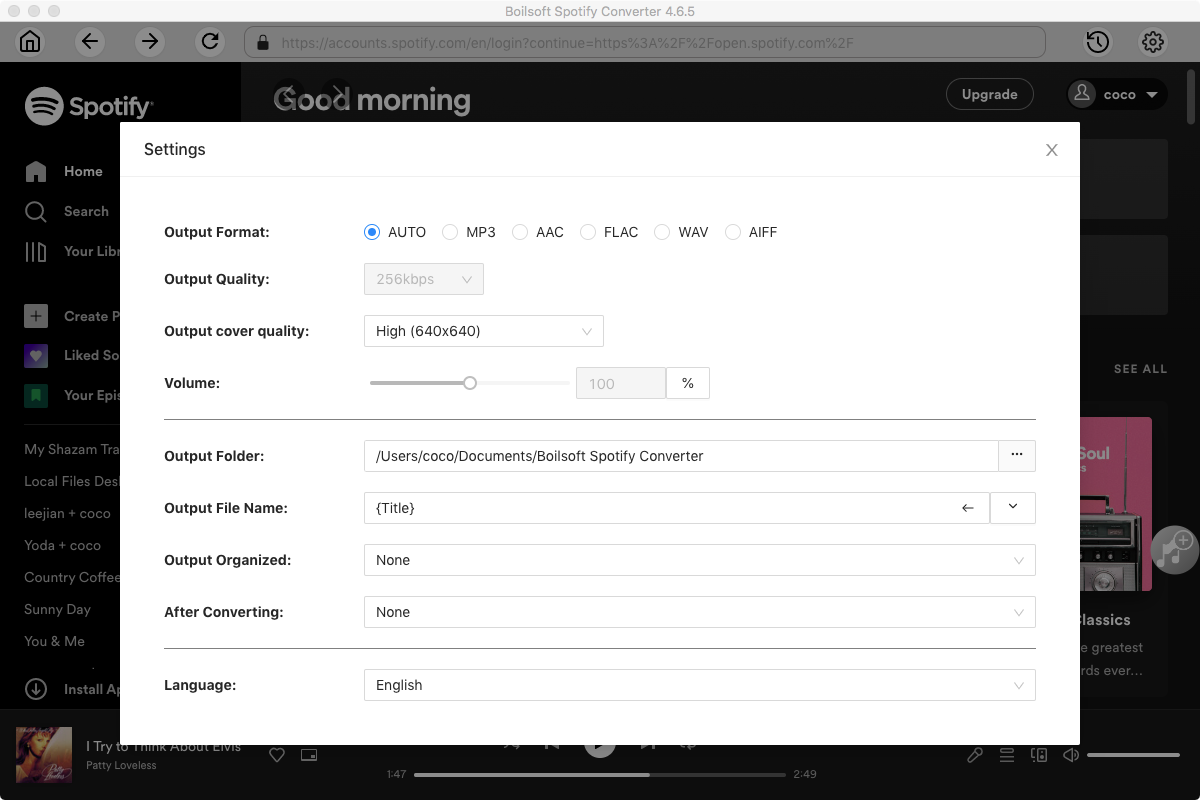 Step 4 Start to download Spotify playlists to mp3
Click Convert icon to start removing Spotify drm and download songs in the playlists to mp3. After conversion, you will get the drm-free music in plain formats.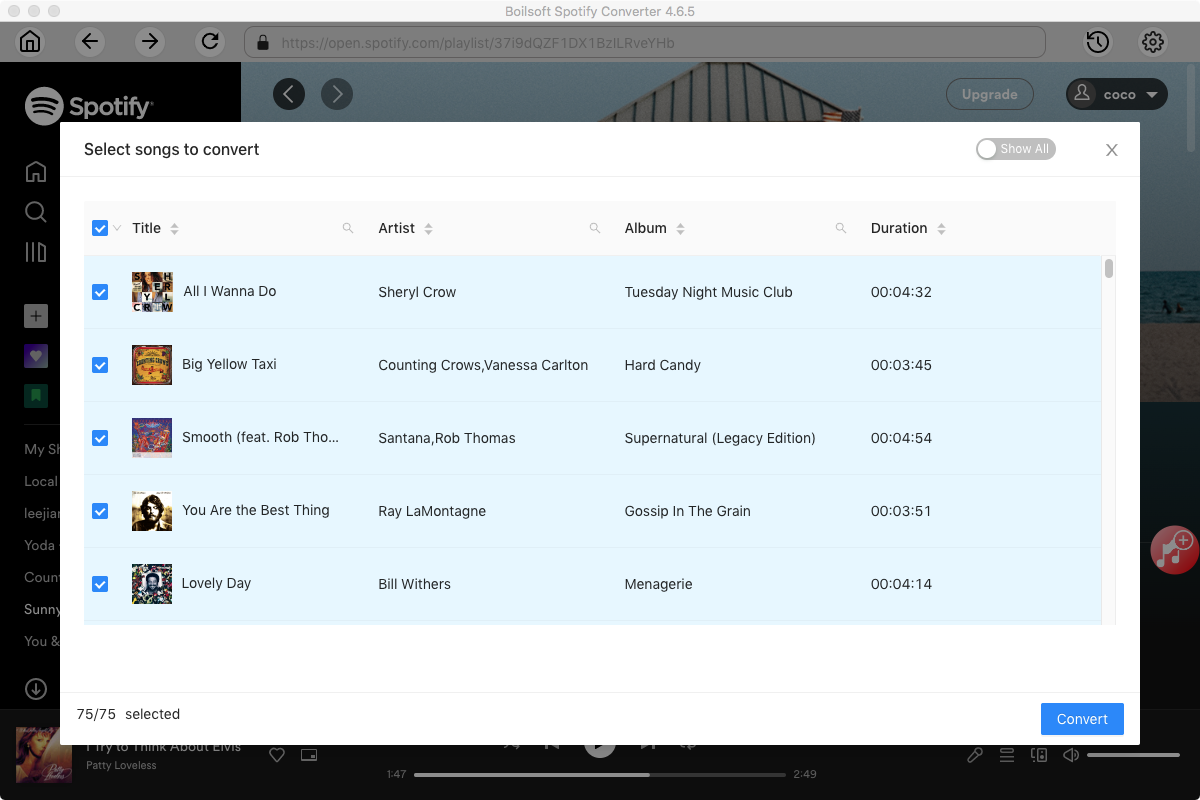 Will Spotify Premium users need Boilsoft Spotify Music Converter?
Spotify premium users can download Spotify music within the app directly. If you have subscribed to Spotify premium, you can download Spotify music for offline listening. However, there are some limitations.

1. You can only download Spotify music on 3 devices, with at most 3,333 songs per device.
When you download to the additional device, the device with the earliest downloads will be automatically removed from the Offline devices list. The tracks on this device will no longer be downloaded for offline listening.

2. You need to go online with Spotify at least once every 30 days to inform Spotify that your subscription is still active. If you don't go online with Spotify at least once every 30 days, any tracks you have downloaded for offline listening are automatically removed from your device.

3. The downloaded Spotify songs are DRM protected. You can only play them on the device where they are downloaded with Spotify app.

So if you subscribed to Spotify premium, but want to download more Spotify music on more devices or play the offline songs on other devices, such as mp3 player, you can also use Boilsoft Spotify Music Converter to download Spotify songs.
Read More: