Best Spotify to MP3 Converter - Convert Spotify to MP3
Is there any possible to download and convert Spotify music to MP3? No matter you are a premium user or a free user, you can not download Spotify music to MP3 format directly. You just need a third-party tool to help you. There are so many online or desktop Spotify downloader in the market, which one can you rely on? Here we will show you some Spotify to MP3 solutions in the google result and briefly tell how these services work to download MP3 songs from Spotify, then you can choose the one you need.
Part 1 3 Best Spotify to MP3 converter
1. Spotify Deezer Music Downloader
Spotify Deezer Music Downloader is a Chrome extension that allows you to convert Spotify playlists and music to mp3. You can download music from the Spotify Web player directly, extension adds a download button to web player interface. This Spotify Deezer Music Downloader uses multiple mp3 libraries to search thru and download Spotify music files from. After downloading Spotify music to mp3, you can enjoy Spotify offline with even free account.
Uplated : This extension is no longer available to new users, but existing users can still use it to convert Spotify to mp3.
Cons: A certain amount of tracks are missing in the libraries, therefore, some Spotify tracks won't be downloaded.
2. AllToMP3
AllToMP3 is a mp3 download app for Mac, Windows and linux. It allows you to download mp3 songs from YouTube, SoundCloud and Spotify. Just copy&paste the Spotify song, album or playlist link to the interface and hit Enter. It begins to download Spotify songs to mp3.
Cons: AllToMP3 also searches songs from online libraries, so you may get wrong results or download failures.
3. Boilsoft Spotify Converter
Although the above 2 Spotify to mp3 converters are free, there are so many limitations. If you pay more attention on high audio quality, ID tags, metadata information, technical support and regular updates. We recommend a well-known standalone Spotify to MP3 downloader and converter. It is Boilsoft Spotify Converter , works on both Windows and Mac. It is a smart Spotify music downloader tool specialized in downloading and converting any Spotify music, including Spotify tracks, playlists and albums to common MP3, AAC, WAV, FLAC, M4A, M4B format. Built in advanced encoding technology, it is able to keep original quality and all ID tags, such as artist, track number, year, genre, composer, etc.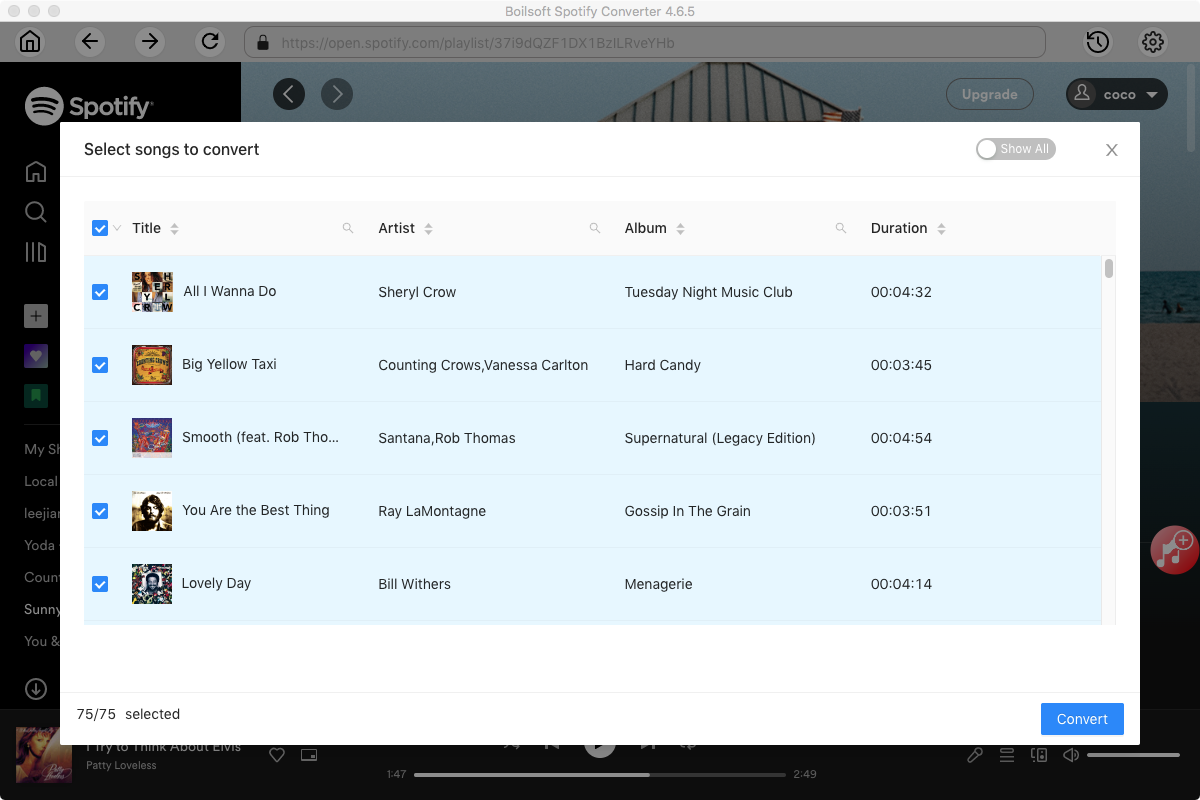 4. Soundloaders
Soundloaders is a simple online web tool that allows you to download every Spotify songs to MP3 files. It's compatible with desktop and mobile browsers (see more informations below). All the metadata like cover image, artists, and release date are added in the downloaded songs if they have been found. It use an advanced algorithm to find the spotify song you want and convert it to a MP3 file, in the best quality possible (320kbps). 
However, sometimes the algorithm failed to retrieve the song you want. Unfortunately, there's no solution for this problem so it's not necessary to contact the developer for resolving it.
Part 2 Spotify converter that doesn't convert Spotify to mp3
1. MP3FY
MP3FY.com is a online mp3 converter but it only converts videos to mp3. MP3FY supports over 1000 Websites. Starting from Youtube, Facebook, Instagram, Vimeo ... to BBC, CNN. Almost anything you can think of! Be aware that MP3FY.com doesn't support converting music files to mp3, thus you can't use it to convert Spotify to MP3.
2. Playlist Converter
Playlist Converter is a free online music converter can help you to convert playlists from different services and music formats like Spotify, Deezer, Youtube etc. But, it only supports to convert playlist. You should create a playlist first and add all songs you want to convert to the new playlist.
Step 1 Open the website: http://www.playlist-converter.net/. Click Spotify logo button, and login with your Spotify account.
Step 2 Choose a Spotify playlist that you want to convert, then it will load the playlist from your account. As you can see from the supported formats, you can only convert Spotify playlists to free text, YouTube, Deezer, SoundCloud and link for share. There is no mp3 option. So this tool is not able to convert Spotify to mp3.
3. Spotiload (former Spotify Vk Downloader)
Spotiload is a Chrome extension that allows you to download Spotify playlists in mp3 format. Spotiload uses vk.com social network to search and download tracks with matching name from any Spotify playlist. You can download it from extension on Chrome. But it requires vk.com account. Ensure that it is not block in your country.
Conclusion
Pros and Cons of online Spotify to MP3 converters
Pros: Some of them also supports to convert video and songs from other websites. Support multiple output formats. Free online service and easy to use.
Cons: Not record the songs from Spotify but find other sources to replace. And it has some trouble when downloading songs that have multiple artists. Downloads some random or wrong tracks sometimes, and some of them takes too long time to response when clicking download. It is hard to preserve the original audio quality and ID3 tags. --How to upload songs to Spotify?
Part 3 How does Boilsoft Spotify Converter work to convert Spotify to MP3?
Step 1 Run Boilsoft Spotify Music Converter
Download, install and run Boilsoft Spotify Music Converter on your Mac or Windows.


The interface is shown as below. Log in your Spotify account, whether free or premium.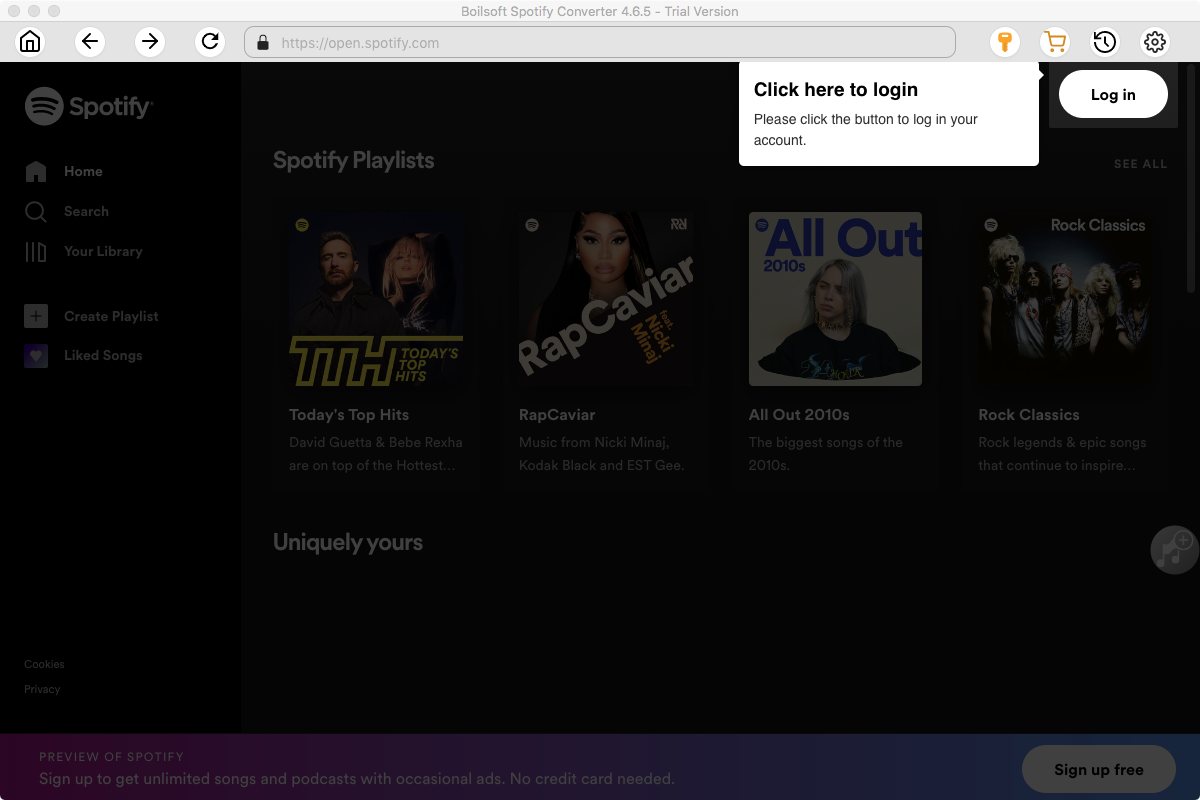 Step 2 Add Spotify songs, albums, playlists or artists
You can now drag and drop songs, albums, playlists or artists to the interface directly from Spotify App. Just head to any playlist, album, or artist page and drag&drop the cover to Boilsoft Spotify Music Converter interface. Or click Add Files icon and copy&paste the link of the song, album, playlist or artist to the bottom input area. Boilsoft Spotify Music Converter will automatically load all songs contained in the album or playlist.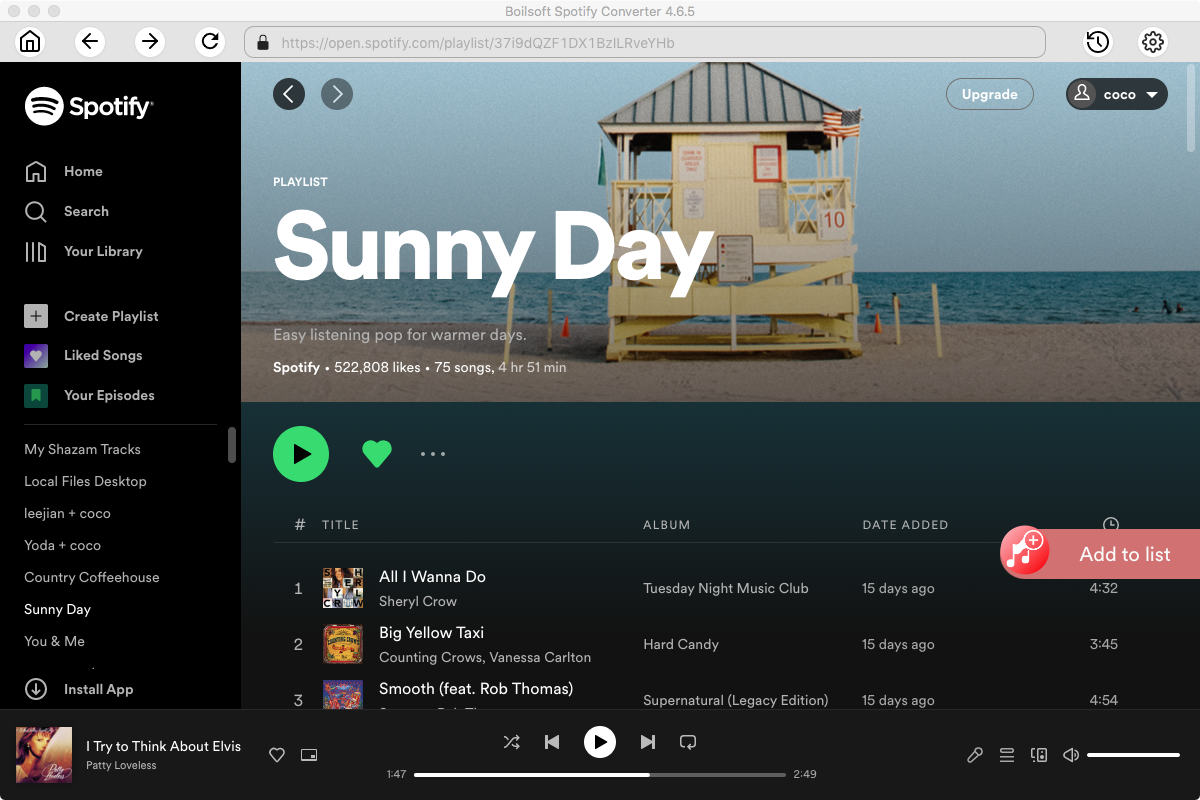 Click Add and you will see all songs on the interface.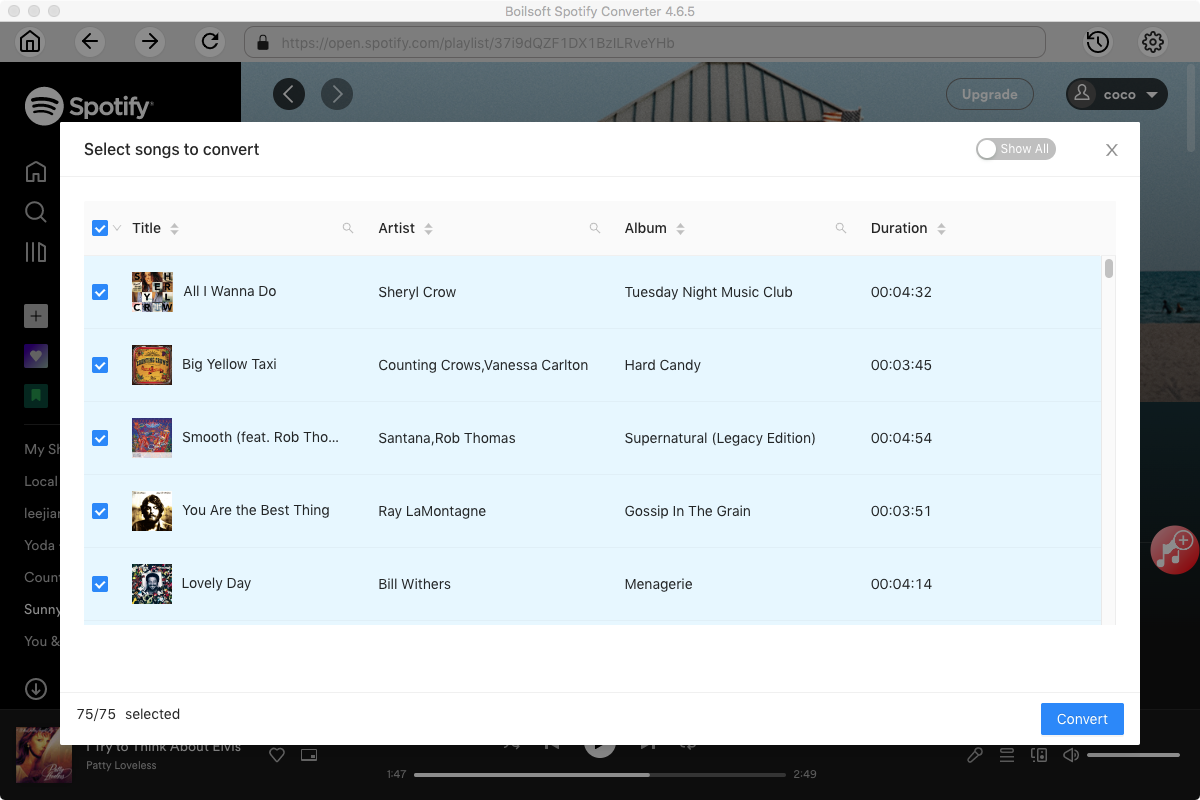 Step 3 Start to convert Spotify music to MP3
Click Convert icon to start converting Spotify music to MP3. After conversion, you will get the drm-free MP3 music with 100% original quality and ID3 tags. Now you can enjoy them offline, on your MP3 player or burn to CD without any limitations.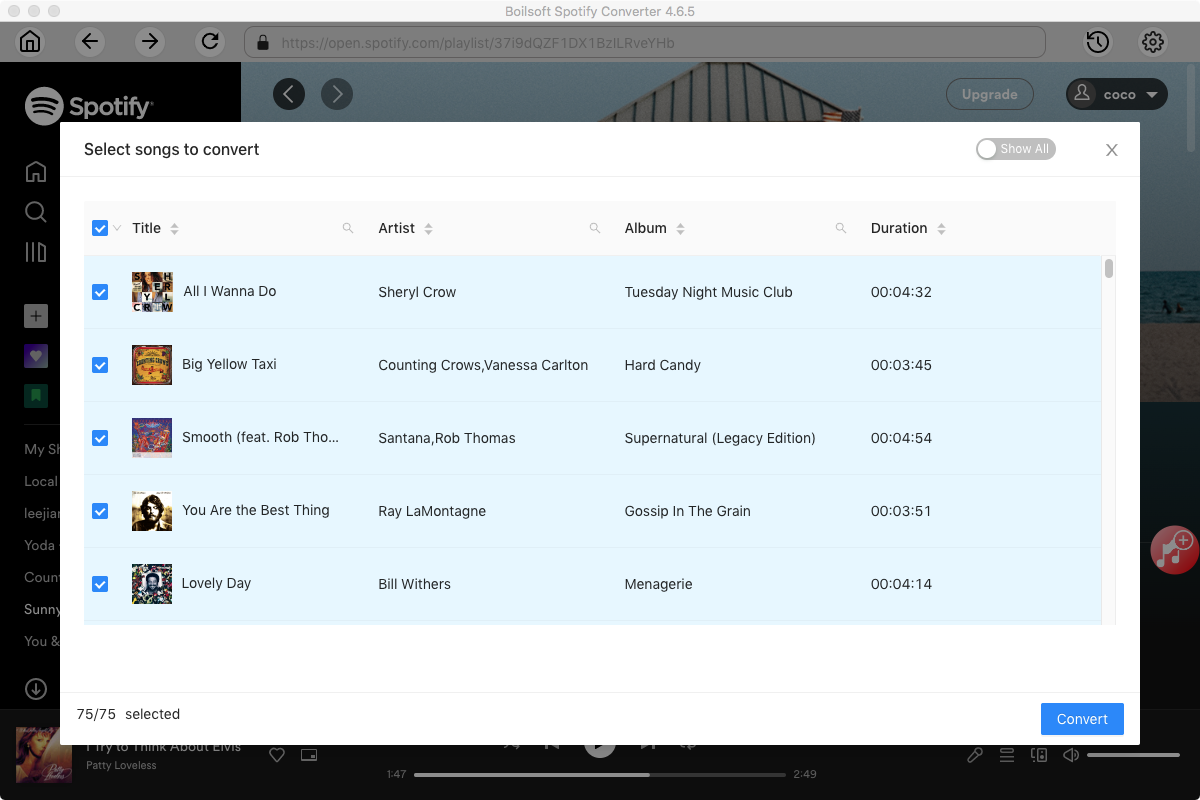 Note:
The default format is MP3. If you want to change output format(M4A, WAV or FLAC), click Option button. You can also set music quality by changing bitrate and samplerate.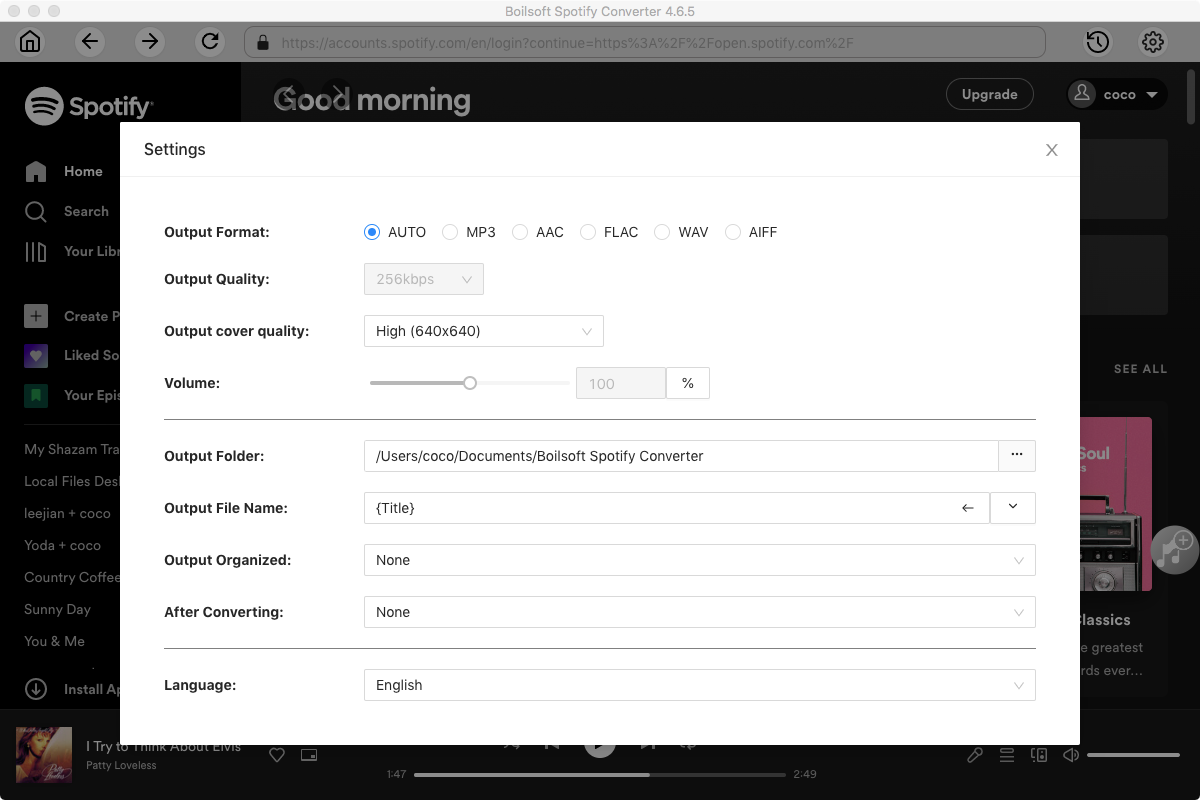 Read More: