Boilsoft Video Splitter is very powerful DVD Splitter and DVD Cutter, split DVD, cut DVD without re-encode, So It is very fast and without any quality loss.
Boilsoft Video Splitter > Formats > DVD Splitter
What is DVD?

DVD (also known as "Digital Versatile Disc" or "Digital Video Disc") is a popular optical disc storage media format. Its main uses are video and data storage. Most DVDs are of the same dimensions as compact discs (CDs) but store more than six times as much data.

DVD-Video discs respectively refer to properly formatted and structured video content. It uses MPEG-2 for video compression, with AC-3, DTS or MPEG audio for multi-channel audio support.
Launch Boilsoft Video Splitter
Once installed Boilsoft DVD Splitter/Cutter, Launch Boilsoft Video Splitter.
Open File
Click 'Open' button, Select 'DVD - VOB(*.vob)' in its "Files of type" combo box.
Add your DVD file, Boilsoft Video Splitter will preview your DVD file directly.
Select Start time, and End time.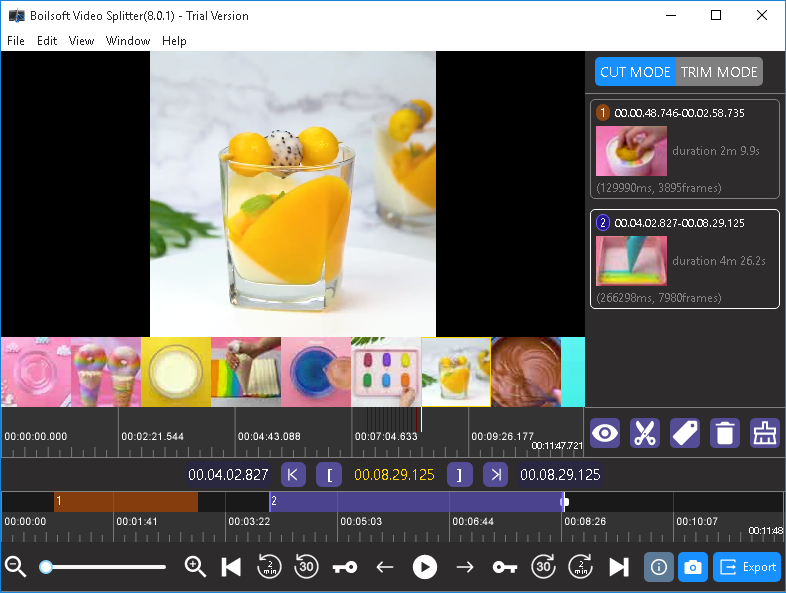 Click 'Split' button to start split your DVD file.
Read More: