Boilsoft Video Splitter is very powerful DivX Splitter and DivX Cutter, split DivX, cut DivX without re-encode, So It is very fast and without any quality loss.
Boilsoft Video Splitter > Formats > DivX Splitter
What is DivX?

DivX is a brand name of products created by DivX, Inc. (formerly DivXNetworks, Inc.), including the DivX Codec which has become popular due to its ability to compress lengthy video segments into small sizes while maintaining relatively high visual quality. The DivX codec uses lossy MPEG-4 Part 2 compression, also known as MPEG-4 ASP, where quality is balanced against file size for utility. It is one of several codecs commonly associated with "ripping", whereby audio and video multimedia are transferred to a hard disk and transcoded. Many newer "DivX Certified" DVD players are able to play DivX encoded movies, although the Qpel and global motion compensation features are often omitted to reduce processing requirements. They are also excluded from the base DivX encoding profiles for compatibility reasons.
Launch Boilsoft Video Splitter
Once installed Boilsoft DivX Splitter/Cutter, Launch Boilsoft Video Splitter.
Open File
Click 'Open' button, Select "DIVX - DivX Video" in its "Files of type" combo box.
Add your DivX file, Boilsoft Video Splitter will preview your DivX file directly.
Select Start time, and End time.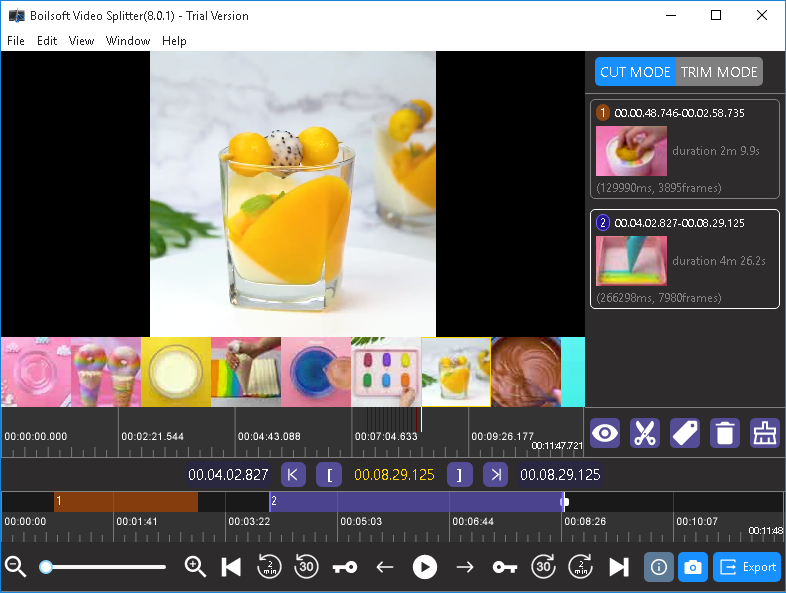 Click 'Split' button to start split your DivX file.
Read More: