Boilsoft Video Splitter is very powerful MPEG2 Splitter and MPEG2 Cutter, split MPEG2, cut MPEG2 without re-encode, So It is very fast and without any quality loss.
What is MPEG2?

A variant of the MPEG video and audio compression algorithm and file format, optimised for broadcast quality video. MPEG-2 was designed to transmit images using progressive coding at 4 Mbps or higher for use in broadcast digital TV and DVD. An MPEG-2 player can handle MPEG-1 data as well. MPEG-2 has been approved as International Standard IS-13818.
Launch Boilsoft Video Splitter
Once installed Boilsoft MPEG2 Splitter/Cutter, Launch Boilsoft Video Splitter.
Open File
Click 'Open' button, Select 'MPEG2 - MPEG2 Video(.mpg, .vob)' in its "Files of type" combo box .
Add your mp4 file, Boilsoft Video Splitter will preview your mpeg2 file directly, if can not play, please install CCCP, our splitter using it to preview.
Select Start time, and End time.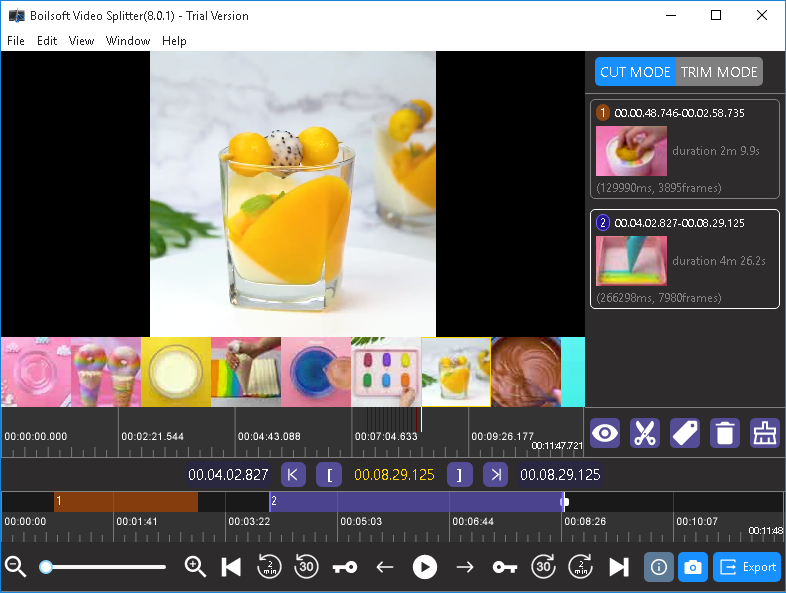 Click 'Split' button to start split your mpeg2 file.