Boilsoft Screen Recorder is a windows screen recording software, it supports for recording video and audio both to an AVI and WMV movie file. If you are using Windows Vista OR Windows 7, the Sound Device list shows a list of physical and logical devices on the sound card. This list is provided by the OS and audio driver. Most of the time, you should only care about the following options(Note, different audio driver may give different names):
1. Microphone/Mic - The audio will be captured from the microphone port
2. Line-in/Line In - The audio will be captured from the Line-in port
3. Stereo Mix/Mono Mix/WAVE Out - The audio will be captured from the sound card's speakers port
If you want record the audio from internet or media player such as Windows Media Player, YouTube video or others, you should select Stereo Mix, Mono Mix or Wave Out Mix.
However, there is no Stereo Mix, Mono Mix or Wave Out Mix in some Windows Vista computers. How to fix this problem?
Enable all recording devices in your Windows Vista/Windows 7
Windows Vista/Windows 7disable some devices of the less frequently used, when you are using them , there may only shows 2~3 devices. To show all recording devices on Boilsoft Screen Recorder Device list, please do following steps:
1. Open Control Panel -- Sound -- Manage Audio Device s
2. Check Record audio option on the Sound Panel .
3. Right click the recording device on the Recording tab, and then check Show Disabled Device menu item.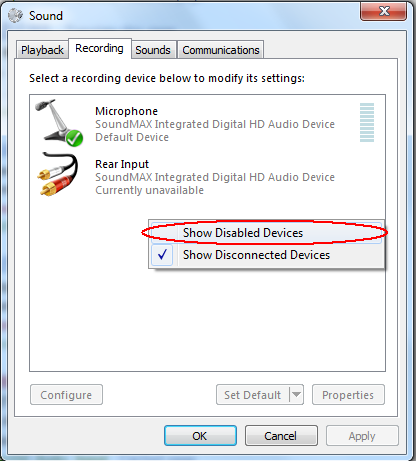 The disabled devices such as Stereo Mix will be shown.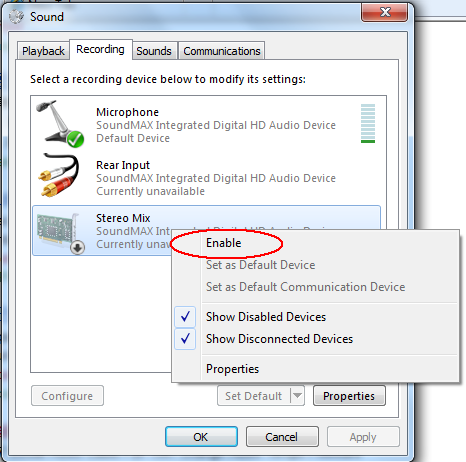 4. Right click the disabled device, and then click the Enable menu item, as it is shown in the figure: Enable Stereo Mix/Mono
Mix/Wave Out Mix in Windows Vista or Windows 7
5. Click the OK Button.
6. Restart the Boilsoft Screen Recorder.