Convert avi, divx, mpeg, rm, mov, mp4 to PSP MP4 files with boilsoft PSP converter
With Boilsoft 3GP/PSP/PSP/MP4 Converter, you can easily convert other video files to PSP MP4 files(.mp4), It supports almost video file like AVI, DivX, MPEG, ASF, WMV, RM, RMVB, MOV and etc.
Convert AVI to PSP MP4, DivX to PSP MP4, Xvid to PSP MP4
Convert MPEG to PSP MP4, include MPEG-1, MPEG-2, VCD, SVCD, VOB
Convert RealMedia(.rm, .rmvb) files to PSP MP4
Convert QuickTime(.mov) to PSP MP4
Convert 3GP, MP4 to PSP MP4.
1. Run Boilsoft PSP Converter, Add your video files.
2. Choose video format, audio format and output file name.
2.1 select output format to PSP MP4
2.2 Configure video format.
Video Codec: xvid, mpeg4
Video Bitrate(kbps)
Frame Rate: auto
Frame Size: 320 x 240, 368 x 208
2.3 Configure audio fromat.
Audio Codec: mpeg4 aac
Audio Bitrate(kbps)
Audio Channel
Audio Sampling(HZ)
2.4 choose output filename you want.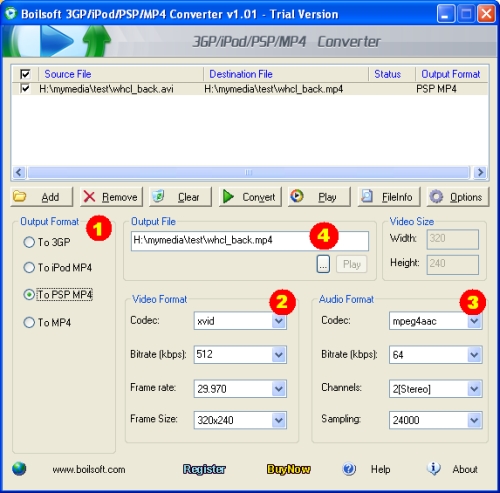 3. Click 'Convert' button, when encoding finished, you will get a .mp4 file can be played by your PSP.