Convert avi, divx, mpeg, rm, mov, mp4 to MP4 files with Boilsoft MP4 converter
With Boilsoft 3GP/MP4/MP4/MP4 Converter, you can easily convert other video files to MP4 files(.mp4), It supports almost video file like AVI, DivX, MPEG, ASF, WMV, RM, RMVB, MOV and etc.
Convert AVI to MP4, DivX to MP4, Xvid to MP4
Convert MPEG to MP4, include MPEG-1, MPEG-2, VCD, SVCD, VOB
Convert RealMedia(.rm, .rmvb) files to MP4
Convert QuickTime(.mov) to MP4
Convert 3GP, MP4 to MP4.
What is MP4?
MP4 is the global file extension for the official container format defined in the MPEG-4 standard (ISO 14496-14)
MP4 is streamable and supports all kinds of multimedia content (multiple audio-, video-, subtitlestreams, pictures, variable-framerates, -bitrates, -samplerates...) and advanced content (officially called "Rich Media" or "BIFS") like 2D and 3D animated graphics, user interactivity, DVD-like menus... - next to nothing handled by the often used AVI

What extension is MP4 using?
- .mp4: only official extension, for all audio and video and advanced content files (and combinations)

other related extensions:
- .m4v: .mp4 files with the WRONG extension introduced by apple for video+audio files, m4v can safely be renamed to .mp4
- .m4a: .mp4 files with the WRONG extension introduced by apple for audio-only files, m4a can safely be renamed to .mp4
- .m4p: DRM protected files sold in iTunes, using the DRM sheme developed by apple
- .m4e: renamed .sdp files used by Envivio for streaming
- .m4v, .mp4v, .cmp, .divx, .xvid, .264: normally raw mpeg-4 video streams (not inside MP4)

1. Run Boilsoft MP4 Converter, Add your video files.
2. Choose video format, audio format and output file name.
2.1 select output format to MP4
2.2 Configure video format.
Video Codec: xvid, mpeg4
Video Bitrate(kbps)
Frame Rate: auto
Frame Size:
2.3 Configure audio fromat.
Audio Codec: mpeg4 aac
Audio Bitrate(kbps)
Audio Channel
Audio Sampling(HZ)
2.4 choose output filename you want.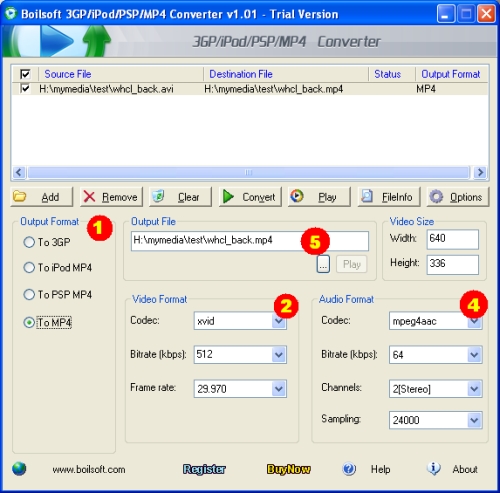 3. Click 'Convert' button, when encoding finished, you will get a .mp4 file can be played by your MP4.