Convert avi, divx, mpeg, rm, mov, mp4 to 3gp files with boilsoft 3gp converter.
With Boilsoft 3GP/iPod/PSP/MP4 Converter, you can easily convert other video files to 3GP files(.3gp), It supports almost video file like AVI, DivX, MPEG, ASF, WMV, RM, RMVB, MOV and etc.
Convert AVI to 3GP, DivX to 3GP, Xvid to 3GP
Convert MPEG to 3GP, include MPEG-1, MPEG-2, VCD, SVCD, VOB
Convert RealMedia(.rm, .rmvb) files to 3GP
Convert QuickTime(.mov) to 3GP
Convert 3GP, MP4 to 3GP
What is 3GP?

3GP - is the new mobile phone video file format.
3GPP, 3GPP2 are the new worldwide standard for the creation, delivery and playback of multimedia over 3rd generation, high-speed wireless networks. Defined by the 3rd Generation Partnership Project and 3rd Generation Partnership Project 2 respectively, these standards seek to provide uniform delivery of rich multimedia over newly evolved, broadband mobile networks (3rd generation networks) to the latest multimedia-enabled wireless devices. Tailored to the unique requirements of mobile devices, 3GPP and 3GPP2 take advantage of MPEG-4, the standard for delivery of video and audio over the Internet.

Extensions:
.3gp 3GPP standard, GSM Network, Video: MPEG-4, H.263, Audio: AAC, AMR
.3g2 3GPP2 standard, CDMA2000 Network, Video: MPEG-4, H.263, Audio: AAC, AMR, QCELP


1. Run Boilsoft 3GP Converter, Add your video files.
2. Choose video format, audio format and output file name.
2.1 select output format to 3GP
2.2 Configure video format.
Video Codec: h263
Video Bitrate(kbps)
Frame Rate: 4, 5, 7.5, 10, 12, 15 ...
Frame Size: 176 x 144, 128 x 96
2.3 Configure audio fromat.
Audio Codec: amr_nb, amr_wb
Audio Bitrate(kbps)
Audio Channel
Audio Sampling(HZ)
2.4 choose output filename you want.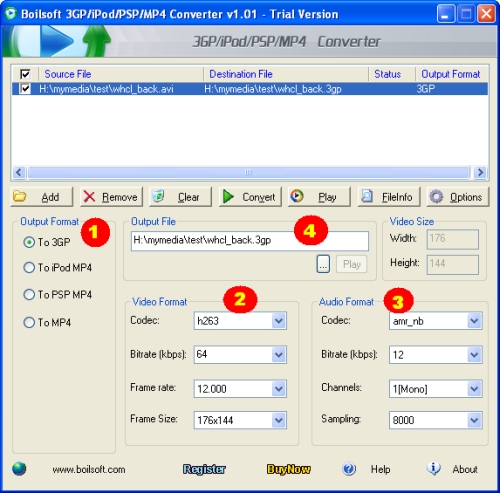 3. Click 'Convert' button, after converted, you will get a .3gp file can be used for your smart phone.