Glossary
WAVE or WAV , short for Waveform Audio File Format,(also, but rarely, named, Audio for Windows) is a Microsoft and IBM audio file format standard for storing an audio bitstream on PCs. It is an application of the RIFF bitstream format method for storing data in "chunks", and thus is also close to the 8SVX and the AIFF format used on Amiga and Macintosh computers, respectively. It is the main format used on Windows systems for raw and typically uncompressed audio. The usual bitstream encoding is the Linear Pulse Code Modulation (LPCM) format.
Advanced Audio Coding (AAC) is a standardized, lossy compression and encoding scheme for digital audio. Designed to be the successor of the MP3 format, AAC generally achieves better sound quality than MP3 at similar bit rates. AAC is also the default or standard audio format for: Apple's iPhone, iPod, iPad, Nintendo DSi, iTunes, DivX Plus Web Player, Sony's PlayStation 3 and is supported by Sony's PlayStation Portable, latest generation of Sony Walkman, phones from Sony Ericsson, the latest S40 and S60 models from Nokia, Android based phones, Nintendo's Wii (with the Photo Channel 1.1 update installed for Wii consoles purchased before late 2007), and the MPEG-4 video standard.
How to convert?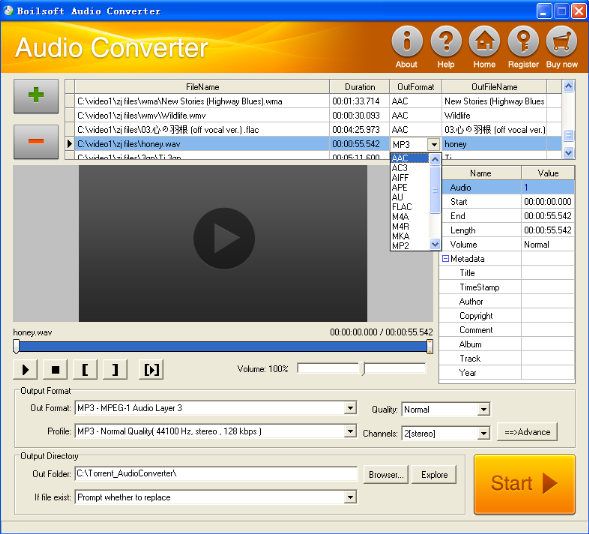 Step 1 Add video or audio formats
Press Add to add the WAV you want to convert, then select AAC as the output format.
Step 2 Edit the file (Optional)
Press

to play the files and the timer will start to work. Press

to stop.
This feature is designed for you to measure your favorite segment.
When you want to designate the segment, you can press

to set starting time and

ending time.
Press

to listen to the selected segment.
Step 3 Customize the audio (Optional)
As can be seen from the diagram, the panel allows you to set the expected volume and output format of the audio, and to customize the sample rate, Bit rate and channels the audio will contain.
Press

to listen to the audio.
Step 4 Customize the metadata information (Optional)
We can see from the picture that the metadata information of the output audio, such as title, author, copyright, comment, album, track, can be customized merely by typing in what you want to display.
Step 5 Get your cool melody
When all settings are completed, just press Start Button to gain your favorite AAC from your output directory soon.