Glossary
The DVD-VR standard defines a logical format for video recording on DVD-R, DVD-RW, and DVD-RAM style media, including the dual layer versions of these media. As opposed to media recorded with the DVD+VR recording standard, the resulting media are not DVD-Video compliant, and will not play back in some DVD-Video players. Most DVD video recorders in the market that support DVD-R, DVD-RW, or DVD-RAM media will allow recording to these media in DVD-VR mode, as well as in a DVD-Video compliant mode. It is possible to use the DVD-VR format with DVD+R and DVD+RW media, but no examples are known other than some PC based recording utilities.
Windows Media Audio (WMA) is an audio data compression technology developed by Microsoft. The name can be used to refer to its audio file format or its audio codecs. It is a proprietary technology that forms part of the Windows Media framework. WMA consists of four distinct codecs. The original WMA codec, known simply as WMA, was conceived as a competitor to the popular MP3 and RealAudio codecs. WMA Pro, a newer and more advanced codec, supports multichannel and high resolution audio.[A lossless codec, WMA Lossless, compresses audio data without loss of audio fidelity (the regular WMA format is not lossless).And WMA Voice, targeted at voice content, applies compression using a range of low bit rates.
How to convert?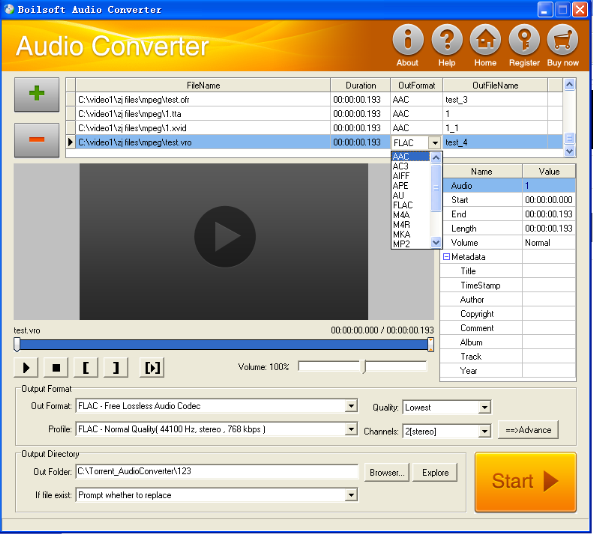 Step 1 Add video or audio formats
Press Add to add the VRO you want to convert, then select WMA as the output format.
Step 2 Edit the file (Optional)
Press

to play the files and the timer will start to work. Press

to stop.
This feature is designed for you to measure your favorite segment.
When you want to designate the segment, you can press

to set starting time and

ending time.
Press

to listen to the selected segment.
Step 3 Customize the audio (Optional)
As can be seen from the diagram, the panel allows you to set the expected volume and output format of the audio, and to customize the sample rate, Bit rate and channels the audio will contain.
Press

to listen to the audio.
Step 4 Customize the metadata information (Optional)
We can see from the picture that the metadata information of the output audio, such as title, author, copyright, comment, album, track, can be customized merely by typing in what you want to display.
Step 5 Get your cool melody
When all settings are completed, just press Start Button to gain your favorite WMA from your output directory soon.