Glossary
A VOB file (Video Object) is a container format in DVD-Video media. VOB can contain video, audio, subtitle and menu contents multiplexed together into a stream form. VOB is based on the MPEG program stream format, but with additional limitations and specifications in the private streams. The MPEG program stream has provisions for non-standard data (as used in VOB files) in the form of so-called private streams. VOB files are a very strict subset of the MPEG program stream standard. While all VOB files are MPEG program streams, not all MPEG program streams comply with the definition for a VOB file.
RealAudio files were originally identified by a filename extension of .ra (for Real Audio). In 1997, RealNetworks also began offering a video format called RealVideo. The combination of the audio and video formats was called RealMedia and used the file extension .rm. However, the latest version of RealProducer, Real's flagship encoder, reverted to using .ra for audio-only files, and began using .rv for video files (with or without audio), and .rmvb for VBR video files. The .ram (Real Audio Metadata) and .smil (Synchronized Multimedia Integration Language) file formats are sometimes encountered as links from web pages.
How to convert?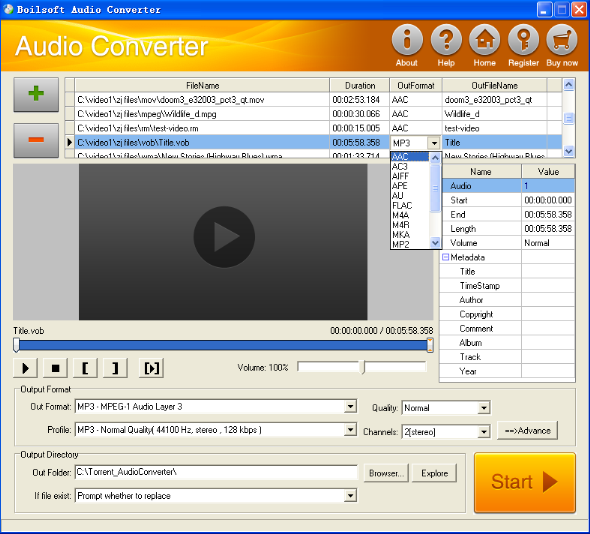 Step 1 Add video or audio formats
Press Add to add the VOB you want to convert, then select RA as the output format.
Step 2 Edit the file (Optional)
Press

to play the files and the timer will start to work. Press

to stop.
This feature is designed for you to measure your favorite segment.
When you want to designate the segment, you can press

to set starting time and

ending time.
Press

to listen to the selected segment.
Step 3 Customize the audio (Optional)
As can be seen from the diagram, the panel allows you to set the expected volume and output format of the audio, and to customize the sample rate, Bit rate and channels the audio will contain.
Press

to listen to the audio.
Step 4 Customize the metadata information (Optional)
We can see from the picture that the metadata information of the output audio, such as title, author, copyright, comment, album, track, can be customized merely by typing in what you want to display.
Step 5 Get your cool melody
When all settings are completed, just press Start Button to gain your favorite RA from your output directory soon.