Glossary:
OptimFROG(OFR) is a free lossless audio codec, known by its very high compression ratios. OptimFROG is developed by Florin Ghido. OptimFROG usually obtains the best lossless audio compression ratios on comparisons against other lossless encoders (practically a tie with the current champion LA). It has Windows and Linux versions, fully-featured input plug-ins for the foobar2000, Winamp2, Winamp3, dBpowerAMP, XMPlay and XMMS audio players (with bitstream error resilience, ID3v1.1 and APEv2 read tagging support), optimal support for all integer PCM WAV formats up to 32 bits and an extensible streamable (error tolerant) compressed format.
MPEG-1 or MPEG-2 Audio Layer 3 (or III),[4] more commonly referred to as MP3 , is a patented digital audio encoding format using a form of lossy data compression. It is a common audio format for consumer audio storage, as well as a de facto standard of digital audio compression for the transfer and playback of music on digital audio players.
How to convert?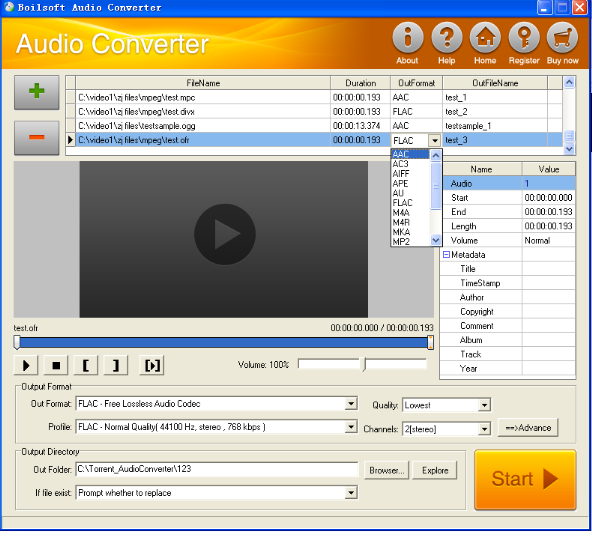 Step 1 Add video or audio formats
Press Add to add the OFR you want to convert, then select MP3 as the output format.
Step 2 Edit the file (Optional)
Press

to play the files and the timer will start to work. Press

to stop.
This feature is designed for you to measure your favorite segment.
When you want to designate the segment, you can press

to set starting time and

ending time.
Press

to listen to the selected segment.
Step 3 Customize the audio (Optional)
As can be seen from the diagram, the panel allows you to set the expected volume and output format of the audio, and to customize the sample rate, Bit rate and channels the audio will contain.
Press

to listen to the audio.
Step 4 Customize the metadata information (Optional)
We can see from the picture that the metadata information of the output audio, such as title, author, copyright, comment, album, track, can be customized merely by typing in what you want to display.
Step 5 Get your cool melody
When all settings are completed, just press Start Button to gain your favorite MP3 from your output directory soon.