Glossary:
Flash Video is a container file format used to deliver video over the Internet using Adobe Flash Player versions 6–10. Flash Video content may also be embedded within SWF files. There are two different video file formats known as Flash Video: FLV and F4V. The audio and video data within FLV files are encoded in the same way as they are within SWF files. The latter F4V file format is based on the ISO base media file format and is supported starting with Flash Player 9 update 3. Both formats are supported in Adobe Flash Player and currently developed by Adobe Systems. FLV was originally developed by Macromedia.
FLV has quickly established itself as the format of choice for embedded video on the web. Notable users of the Flash Video format include YouTube, Hulu, Google Video, Yahoo! Video, metacafe, Reuters.com, and many other news providers.
Monkey's Audio (APE) is a file format for audio data compression. Being a lossless format, Monkey's Audio does not discard data during the process of encoding, unlike lossy compression methods such as AAC, MP3, Vorbis and Musepack.Data file compression is employed in order to reduce bandwidth, file transfer time, and/or storage requirements. A digital recording (such as a CD) encoded to the Monkey's Audio format can be decompressed into an identical copy of the original audio data. As with the FLAC and Apple Lossless format, files encoded to Monkey's Audio are typically reduced to about half of the original size, with data transfer rates and bandwidth requirements being reduced accordingly.
How to convert?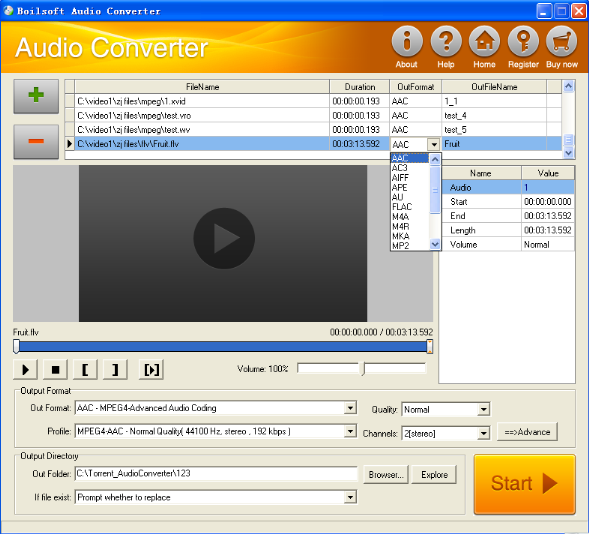 Step 1 Add video or audio formats
Press Add to add the FLV files you want to convert, then select ape as the output format.
Step 2 Edit the file (Optional)
Press

to play the files and the timer will start to work. Press

to stop.
This feature is designed for you to measure your favorite segment.
When you want to designate the segment, you can press

to set starting time and

ending time.
Press

to listen to the selected segment.
Step 3 Customize the audio (Optional)
As can be seen from the diagram, the panel allows you to set the expected volume and output format of the audio, and to customize the sample rate, Bit rate and channels the audio will contain.
Press

to listen to the audio.
Step 4 Get your cool melody
When all settings are completed, just press Start Button to gain your favorite ape from your output directory soon.
Í