Glossary:
DAT (Digital Audio Tape) is a standard medium and technology for the digital recording of audio on tape at a professional level of quality. A DAT drive is a digital tape recorder with rotating heads similar to those found in a video deck. Most DAT drives can record at sample rates of 44.1 kHz, the CD audio standard, and 48 kHz. DAT has become the standard archiving technology in professional and semi-professional recording environments for master recordings. Digital inputs and outputs on professional DAT decks allow the user to transfer recordings from the DAT tape to an audio workstation for precise editing. The compact size and low cost of the DAT medium makes it an excellent way to compile the recordings that are going to be used to create a CD master.
Audio Interchange File Format (AIFF) is an audio file format standard used for storing sound data for personal computers and other electronic audio devices. The format was co-developed by Apple Computer in 1988 based on Electronic Arts' Interchange File Format (IFF, widely used on Amiga systems) and is most commonly used on Apple Macintosh computer systems.
How to convert?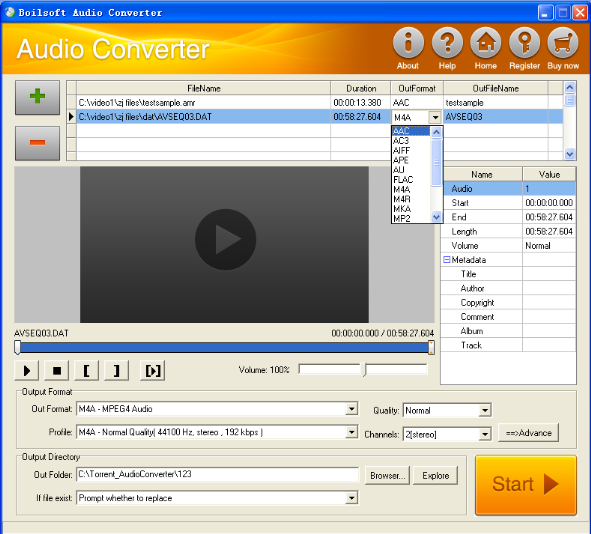 Step 1 Add video or audio formats
Press Add to add the DAT files you want to convert, then select aiff as the output format.
Step 2 Edit the file (Optional)
Press

to play the files and the timer will start to work. Press

to stop.
This feature is designed for you to measure your favorite segment.
When you want to designate the segment, you can press

to set starting time and

ending time.
Press

to listen to the selected segment.
Step 3 Customize the audio (Optional)
As can be seen from the diagram, the panel allows you to set the expected volume and output format of the audio, and to customize the sample rate, Bit rate and channels the audio will contain.
Press

to listen to the audio.
Step 4 Get your cool melody
When all settings are completed, just press Start Button to gain your favorite aiff from your output directory soon.