Glossary:
Dolby Digital AC-3 is the common version containing up to six discrete channels of sound. The most elaborate mode in common usage involves five channels for normal-range speakers (20 Hz – 20,000 Hz) (right front, center, left front, rear right, rear left) and one channel (20 Hz – 120 Hz allotted audio) for the subwoofer driven low-frequency effects. Mono and stereo modes are also supported. AC-3 supports audio sample-rates up to 48 kHz. Batman Returns was the first film to use Dolby Digital technology when it premiered in theaters in Summer 1992. The Laserdisc version of Clear and Present Danger featured the first Home theater Dolby Digital mix in 1995.
Monkey's Audio (APE) is a file format for audio data compression. Being a lossless format, Monkey's Audio does not discard data during the process of encoding, unlike lossy compression methods such as AAC, MP3, Vorbis and Musepack.Data file compression is employed in order to reduce bandwidth, file transfer time, and/or storage requirements. A digital recording (such as a CD) encoded to the Monkey's Audio format can be decompressed into an identical copy of the original audio data. As with the FLAC and Apple Lossless format, files encoded to Monkey's Audio are typically reduced to about half of the original size, with data transfer rates and bandwidth requirements being reduced accordingly.
How to convert?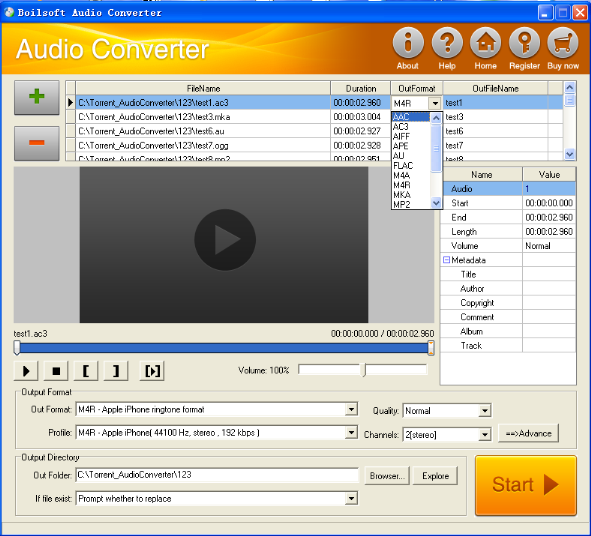 Step 1 Add video or audio formats
Press Add to add the AC3 files you want to convert, then select APE as the output format.
Step 2 Edit the file(Optional)
Press

to play the files and the timer will start to work. Press

to stop.
This feature is designed for you to measure your favorite segment.
When you want to designate the segment, you can press

to set starting time and

ending time.
Press

to listen to the selected segment.
Step 3 Customize the audio (Optional)
As can be seen from the diagram, the panel allows you to set the expected volume and output format of the audio, and to customize the sample rate, Bit rate and channels the audio will contain.
Press

to listen to the audio.
Step 4 Customize the metadata information (Optional)
We can see from the picture that the metadata information of the output audio, such as title, author, copyright, comment, album, track, can be customized merely by typing in what you want to display!
Step 5 Get your cool melody
When all settings are completed, just press Start Button to gain your favorite APE from your output directory soon.